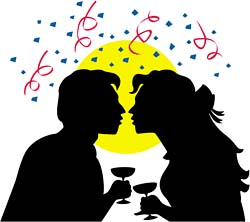 For all you ladies who have a man, New Year's Eve can be one of the most exciting nights of the entire year. So many parties and so little time. But what if you just feel like sitting at home with your man, though? Here is how you can spend New Year's Eve at home with him this year.
Step 1: Buy a nice bottle of champagne for you and your man. Then, at midnight, you two can have a romantic toast.
Step 2: Order out or have food delivered to your place. You can get any type of dinner that you want depending on what you and your man feel like.
Step 3: Make resolutions and keep them a secret until midnight. This could be a fun activity for you and your man.
Step 4: Rent lots of movies and have a marathon. This a fun way for you and your man to spend the evening.
Step 5: Turn on the television right before midnight to you can watch the ball drop. Then, at midnight, you can ring in the new year with a kiss.
Step 6: Have a romantic dance with your spouse after midnight. You could put on a CD and a nice soft and romantic song. It's the perfect way to end the night with your spouse.
However you decide to spend your New Year's this year with your special someone, being together at the stroke of Midnight is the best part. You don't have to go all out this year, instead save your money and have a nice and relaxing time together. Think of all that time you saved if you had to get ready, the outfits that didn't need to get bought, the tickets to the event and alcohol you didn't have to buy.